A few years ago, in a effort to educate children about the importance of developing compassion, understanding and consideration of other species, Maine Friends of Animals initiated its concept of a 'Pet Club' for students in grades 3-6. MFOA teamed up with the Madison Elementary School to organize its first Pet Club. It was such a success that MFOA has created a model that we hope to introduce to elementary schools throughout the state.
The mission of the Pet Club is to advance student and community education regarding the care and protection of companion animals. A club information packet provides schools with a working model complete with guidelines on the structure, school involvement, issues, activities and benefits in instituting the program. In addition, MFOA provides ongoing support until the club has been successfully established. Ultimately, with the school and community, the goal is to teach children about the issues affecting pets, as well as the proper care and respect for our companion animals.
MFOA is seeking a grant to help facilitate the growth of its model statewide by adding new programs annually, as well as maintaining established Pet Clubs. A key component is finding the right school and, particularly, the right lead teacher. If you know a school and/or an elementary school teacher in your area that might like to learn more about forming a Pet Club, please have them contact MFOA at info@mfoa.net.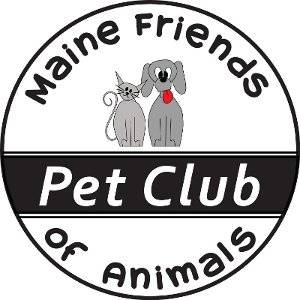 Pet Club Issues
• Care for companion animals
• "Dogs chained for life"
• Local shelters
• Companion animal cruelty education
• Pets left in cars
• Spay/neuter education
• Feral cats / homeless pets
• Animal rescue groups
• Firehouse pet oxygen masks
• Animal welfare and laws protecting animals
• Pet food drop-offs for needy families
• Learning about other companion animals (rabbits, hamsters, ferrets. etc.)
February 25, 2014
Can You Help
MFOA

Establish a Pet Club In Your School?     

Maine Friends of Animals is in the process of establishing Pet Clubs in elementary and middle schools in Maine. The mission is to advance student education regarding the general care and protection of companion animals. We have created a comprehensive "How To" packet with helpful guidelines to create a successful Pet Club. 

Although often managed by a small advisory group and the students themselves, the key to a successful on-going Pet Club is a strongly committed lead teacher: a teacher who knows about pets and how important it is to teach young children to understand and have compassion for animals. 

  Are you a teacher who would like to receive a Pet Club packet?

  Do you know an elementary or middle school teacher who might like to start a Pet Club?  

  Do you know a school principal who might be willing to meet with us?

  Do you have a child or grandchild in the local elementary or middle school whose teacher might consider beginning a Pet Club?

  Would you be willing to contact your elementary or middle school principal about a teacher he or she might recommend to start a Pet Club? 

Our Pet Club concept and presentation have been very well received, and it is exciting to see the kids have fun learning about animal welfare, but we need more schools to participate. We hope that you can help us in our mission to advance student education and interest regarding the care and protection of companion animals. 

Contact MFOA today!  207-781-2187, email: info@mfoa.net